Exotic Tiny Teardrop Yorkie

Pomeranian's
Yorkie's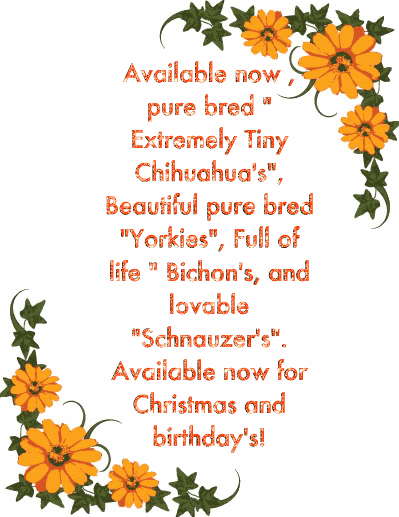 "A Tiny Teardrop Touch Chihuahua" or "Pomeranian or Yorkie Tiny Love Drop kiss Beauty's"
Also;" Extremely Tiny Designer Puppies"
To Touch The Heart of a Family Choice -n- Selection.

Payment Plans:And accepting Deposits, and Lay Away Offering 1/2 Down
With Monthly Payments Towards Balance. Also available to take your Pet Home during your monthly payment plan. I'am Willing to work with Family Needs and financial dealings and continued 24 hour pet support.
CHIHUAHUAS